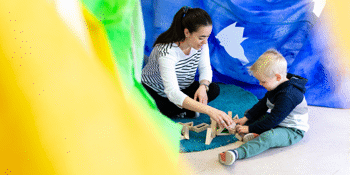 Museum of Contemporary Art
ARTplay
Museum of Contemporary Art Australia (The Rocks, Sydney, NSW)
Wednesday, 6 December 2023 10:00 am
Let's get creative in an ARTplay session for children 0–5 years and their grownups. Led by MCA Artist Educators, kids and families are invited to join in and get creative and enjoy a range of exhibition-related games and toys.
We highly recommended booking in advance. Due to the popularity of this event there are two entry times available, 10am and 11am.
Helpful hints
First time to the MCA? Visit our Social story: how to access the MCA.
Changing facilities and accessible bathrooms are located on the ground floor and Level 3. Our parent's room is located on Level 2 with a microwave, changing table and seating.
Breast, bottle, chest, and syringe feeding are welcome in our programs and throughout the MCA building.
Grab a coffee and a snack from the kid's menu at the MCA Cafe on Level 4.
Excited about coming to the MCA? Try out our Activity: Map your way to the MCA.
Access for everyone
This event is suitable for children of all bodies and abilities. Contact us about access support.
Cancellation or refunds
If you or a family member are feeling unwell or have been in close contact with someone who has tested positive for COVID-19, or have tested positive yourself, please get in touch with us via reception@mca.com.au or call 02 9245 2400 to reschedule. Please note that all tickets are non-refundable for this program.
For any other enquiries related to this program, please contact us via reception@mca.com.au or call 02 9245 2400.
COVID-19 update
The health and safety of visitors and staff is our main priority at the MCA. Please read our visitor safety information here.